VideoToZune
is a lightweight video conversion program that wraps around the very functional and capable ffmpeg console application in an invisible and friendly manner. With some simple drag-and-drops, you can easily convert any video for playback on a Zune device using software version 3.0 or higher. And with automatic output options, you can set VideoToZune up to move converted videos directly to a monitored Zune folder for immediate copying to your Zune device!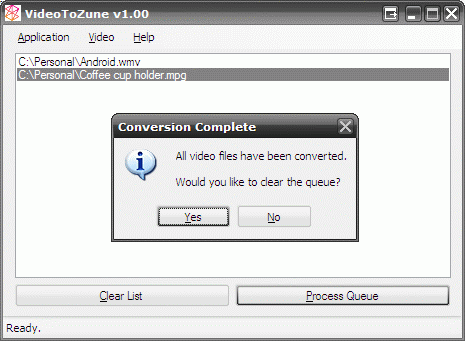 Features
:
Drag-and-drop interface allows queuing up a large number of videos to be trascoded while you're away at work or sleeping!
Has standard format and high-quality format options, for TV playback.
Automatically detects fullscreen and two different widescreen formats and adds black bars accordingly. This prevents image stretching on the Zune.
All of the ffmpeg conversion options are stored in separate batch files that are installed in the program's install directory. For advanced users, this means you can edit them and fine-tune how VideoToZune converts your videos!
Limitations On Use
:
This download is freeware. All features of this program are available for all to use freely.
Liability
:
I maintain no liability or warantee for the use of this program in any situation.
Download
:
Click here
to download
VideoToZune
version 1.01 (2,511 KB).
Fatal error
: Call to undefined function OutputHTMLFooter() in
E:\Webserver\www.PeterSouza.com\Software\VideoToZune\index.php
on line
36